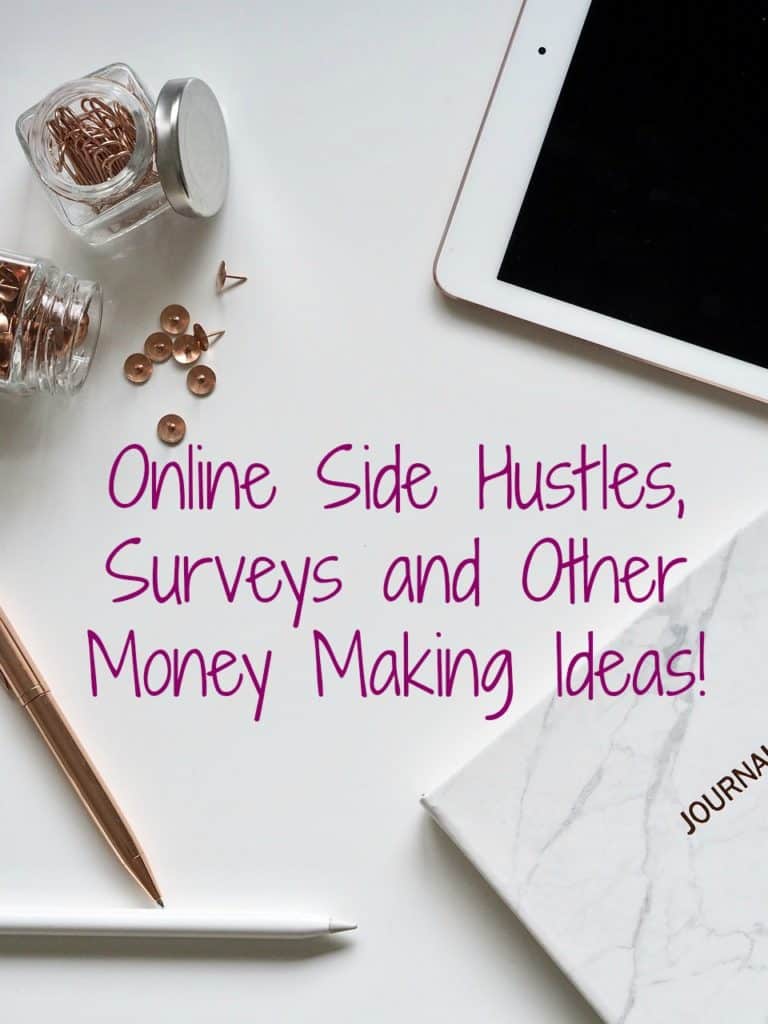 A long, long time ago when I very first started this little blog, I wrote an article on how to make money online.  Well, my life and experiences have changed drastically since then and I have a lot more to say on the subject!
Have you ever wondered if there are legitimate ways to earn money online?  I know that there are countless "make money now" scams online, but did you know that there are legit and honest ways to earn extra cash online.  Some of us even make a full time living doing it!  I know from personal experience because for the last 4 years I have made a full time living while working online.
My first experience earning any money online was with survey companies.  Yes, there really are ways to get paid for surveys!  Here are just a few of the legitimate companies that I have done work for:
Surveys are a great way to earn a couple of dollars here or there and even get free products!
While staying busy with surveys I decided I wanted to help my family out even more so I began looking for ways to earn real income and I stumbled onto Textbroker.  Textbroker is a great place to get a start on an online copywriting career.  They pay anywhere from $0.01 to $0.05 per word depending on your writing skill.  You will not get rich from this, but the more you work and the better you perform, the more you can earn.
There are other freelancing sites similar to Textbroker that offer great, higher paid work, but it will involve higher quality, so be prepared to work for real!
Fiverr (You may think that Fiverr is a no-go because it only pays $5 per job, but the truth is, you can easily raise the price of these jobs by adding in extras.  I have met several people who have made $30k+ per year selling on fiverr, plus you can do almost anything on that website.  Awesome for creative minds.)
Swagbucks is a great place to go to earn "swagbucks" which can then be converted to gift cards.  I have used Swagbucks to pay for all of Christmas before.  So, no, you won't make a full time living here, but you can easily make $10-$50 per month that can be used on household necessities, Christmas and Birthday funds, etc.
If you have lots of stuff to get rid of, or if you are an expert at snagging a good deal, you can sell your goods on Amazon or eBay.  Selling isn't my favorite thing to do, but I have made several hundred dollars selling my old clothes on Ebay before.
Here are some books that will help if you want to be an online seller:
The Big Book of eBay: How Start an eBay Business, and Make Money Selling Online
If you are handy or creative, Etsy is the place to go to sell those types of items.  Here are some books that will help you get started:
Okay, here are the big ones though.  For the last several years I have earned a full-time income online by being a blogger and Virtual Assistant.  I personally do most of my VA work, creating content for other, bigger bloggers.  I got started in an unconventional way as I started a small coupon blog and got noticed from some bigger bloggers who then offered me work helping them.  It has grown from there so now I create content (articles, printables, roundups) and I offer social media management to companies and bloggers alike.  In order to grow my business though, I read several books and have taken several trainings.
Here are a couple books that I highly recommend:
The Bootstrap VA (Seriously the BEST book I read regarding becoming a VA)
Becoming a VA: The Key to Unlocking the Virtual Assistance Industry
Virtual Assistant: Take a Leap of Faith And Start a Virtual Assistant Business (Your Guide to Establishing a Successful Business As a Virtual Assistant)
Here are a couple of courses that I have taken:
Rocking VA Course (Sadie and David are experts at this….I know Sadie has acknowledged making six figures last year and she knows what she is talking about)  I highly recommend this course.  It does cost just shy of $300, but once you have the extra money, it is worth it.
Rock Your Pinterest Course.  This one is free and offered by the same people that offer the Rocking VA Course.  It helps you become a Pinterest Pro which gives you the ability to offer it as a service.
I haven't taken this one yet, but I have heard good things and I just signed up myself.  It's free!
Also, there is always money in starting your own blog.  That being said, too many people though start a blog thinking it's easy money, it is not.  You can make a lot of money, but it requires a lot of work and time.  But boy can it pay off!
First, you need to get yourself a domain name and hosting.  Here are a couple of companies that you can go through…
Domains:
Hosting: