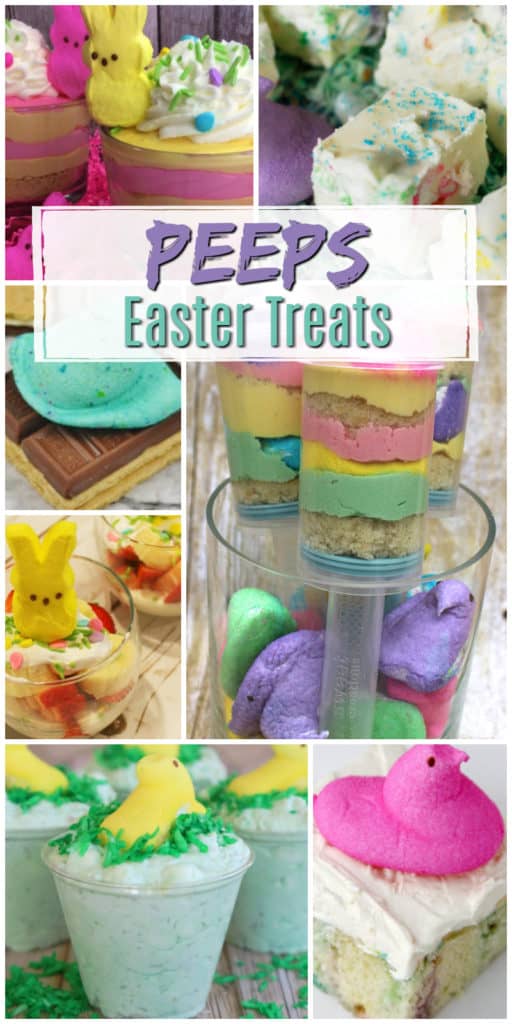 Ahhhh. Peeps. The classic Easter treat that you either love or you hate.  I'm a big fan of honesty so I will just come out and say it.  I HATE Peeps.  Like EWWWWWW. Hate them.  That said, I always add them to my kids' Easter Baskets because they are so cute and they are such a classic part of Easter, it just feels wrong to leave them out.j
We always have a family get together on Easter and I started thinking that I would love to create an Easter themed recipe to bring to the party.  I did a little bit of cruising around online and found some seriously adorable recipes that use, you guessed it, Peeps.
Check out this fun list of Peeps Treats that I rounded up for you:
Pistachio Salad Easter Peeps Dessert Cups – Mom Endeavors
Peeps Push-Up Pops – Joy in the Works
Totally Delicious Peeps Cheesecake Easter Dessert – Lemon Lime Adventures
3-Ingredient Peeps Fudge Recipe – The Thrifty Couple
Peeps Cake with Marshmallow Frosting – Bitz 'n Giggles
Peeps Easter Ideas -Organized Island
Hoppin' Good Easter Trail Mix – Totally the Bomb
Birthday Cake Peeps S'mores – Moments with Mandi
Homemade Marshmallow Peeps Paleo – Forest and Fauna – You can even enjoy your own homemade treats if you are on a Paleo diet!